Chess.com Review: Is a Premium Membership Worth It?
Are you really a chess player if you don't know about Chess.com*? Well, in case you really don't know the largest online chess website, let me give you a brief breakdown. Chess.com is a popular (i. e. the largest) online platform for playing and learning chess, with a large community of players across all skill levels. In addition to their free accounts, they offer paid membership tiers that grant you more on-site functionality and ways to improve your chess. In this review, we'll explore the benefits (and drawbacks) of each different membership level and whether it is worth the cost or not. Let's go!
What is Chess.com?
Although this promotional video by Chess.com is very outdated (over 10 years old, in fact!), it still explains everything you need to know:
By the way: Chess.com has over 100.000.000 members by now! That means, over 0.01% of the world population has registered for a free Chess.com account* – wow!
Essentially, Chess.com is the go-to resource for chess players online. You can play other opponents in live chess, learn and improve your game or watch titled players battle it out on the board – all on one platform. They have a huge blog, which is almost as good as Chessily.com ;), as well a forum to ask questions and hang around with other chess fanatics.
A Look At The Most Popular Chess.com Features
Chess.com literally offers hundreds of features, most of which you can access with a free account (although often times a limited amount). Here, we're reviewing and analysing the three most popular Chess.com features.
Playing Chess
What would Chess.com be without the possibility of actually playing chess? Nothing probably. Luckily, the largest chess website does actually offer you a way to play chess against other people (wow!).
All in all, Chess.com offers a comprehensive and enjoyable experience for playing chess online. The interface and animations feels smooth, the match-ups work great and they offer a huge variety of time controls and different chess variants.
There is really not a lot you can get wrong with an online chess interface – luckily, Chess.com got it all right. A great place to play chess online.
Above you can see the dashboard for starting a game. You can select the time format and jump right into a game against an unknown opponent, play a friend or join an ongoing tournament.
Lessons & Learning
If you want to improve your chess game, Chess.com also offers a variety of lessons and tutorials. Those lessons cover (almost) everything from the absolute chess basics to advanced tactics and strategies, all neatly organised. There are classic video lessons, interactive exercises, an opening explorer, a endgame-section and other quizzes to help you learn and test your understanding of chess.
Here is an overview of the article/video lessons on Chess.com: 
The lessons themselves vary widely in terms of quality. Some are simply puzzles that want you to find moves that a certain GM played in a prestigious match, others are very good and exhaustive lessons on chess openings or general concepts.
Generally, I found lessons on complete openings to be very good, while "play like this GM"-style lessons are lacking severly in both quantity of content and quality.
Puzzles
Finally, Chess.com also offers a variety of puzzles:
Rated Puzzles
Puzzle Rush
Puzzle Battle
Custom Puzzles
Daily Puzzle
Rated puzzles are just what they imply. They are simply puzzles with an added rating function. If you solve a puzzle you gain rating points, if you fail one, you lose rating points. Each of the over 500.000 puzzle itself has a rating according to its difficulty, so you'll always be matched up against a challenging puzzle.
Puzzle Rush is a timed puzzle format in which you have to solve as many puzzles as possible in a timeframe of either 3 or 5 minutes. Get three puzzles wrong and you're out! It is an exiting and adrenaline-infusing way to get better at chess!
Puzzle Battle is a Puzzle Rush but played against an opponent. If you're able to solve more puzzles than your opponent, you win the battle!
Custom Puzzles allow you to improve certain areas of your chess. You can chose puzzles with certain themes, such as checkmates or middlegames.
Daily Puzzles are a great way to chat with other community members over a puzzle. Since they're the same for everyone, you can solve it and discuss your thinking in the forums directly. For example, this is the daily puzzle of January 10th, 2023: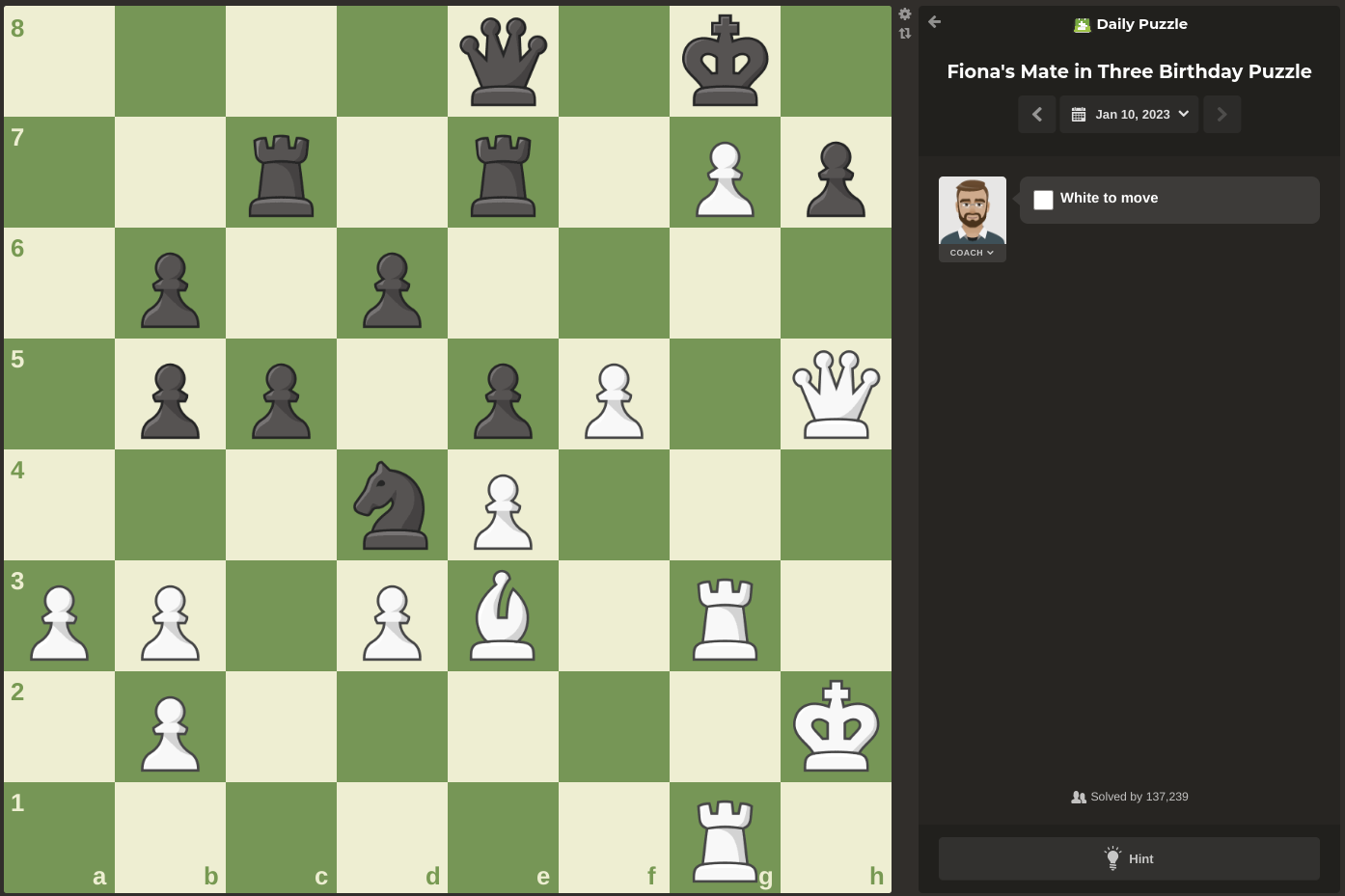 What You Get With a Free Chess.com Account
It is important to know that you get almost all features Chess.com has to offer without paying a single dime. You can sign up for a free Chess.com account* and instantly start playing against opponents from all over the world. We took the time to create a full list of everything you get when signing up for a free account on Chess.com.
The main features are:
Play unlimited chess games, in all time settings: Rapid, Blitz and Bullet etc. as well as different chess variants
Access the "New to Chess" course and get one additional lesson of your choice per week.
Practice with 3 puzzles per day, as well as play Puzzle Rush and Puzzle Battle once a day.
Post in the forums, play the daily puzzle, do a limited amount of drills, play solo chess, use the vision trainer.
Browse the opening library and use the opening explorer to look at the first 4 moves of any opening.
Review one full game per day.
Join and play in tournaments.
Create your own club or join an existing one.
Besides these main Chess.com features, there are some secondary, not as important ones, you can use with a free account:
Play against the computer in different formats.
Unlock achievements and receive awards.
Send cheers and badges to your opponents.
And many more.
Does that sound like a good deal? Well, you have nothing to lose. Sign up for a free account today!*
The only downside to a free Chess.com account is that you will have ads on the site. You can only get rid of them by upgrading to a paid membership or using an Adblocker (which is naughty!).
You can find a full list of the functionality of each membership tier* on Chess.com's support page.
What Chess.com Premium Memberships Tiers Have To Offer
Chess.com offers different premium membership levels. Ranked by increasing monthly cost, there is a Gold, Platinum and Diamond Membership available. We will have a look at what features you can expect in each membership tier.
You can check out the full offerings of each membership level on Chess.com*.
Chess.com Gold Membership
The Chess.com Gold Membership is the most basic subscription tier. In addition to everything you get from a free account, you will get:
An ad-free experience.
Unlimited access to all lessons, as well as video library.
Unlimited Puzzles (this includes Puzzle Rush and Puzzle Battle).
Full use of the opening explorer and endgame positions.
Access to all Chess.com bots and computer personalities.
And much more.
Is the Chess.com Gold Membership worth it? Yes, the Gold tier is definitely worth it. For starters, you'll get rid of the annoying ads on Chess.com. Also, having unlimited access to all puzzles, all bots as well as all lessons is a lot of value for a comparetively small monthly price. The Gold Membership is definitely the best value-for-money.
You can sign up for a Gold Membership here*
Chess.com Platinum Subscription
The Chess.com Platinum Membership is the middle subscription tier. Besides all the benefits of a free account and a Gold Membership, you will get:
Unlimited game analysis and reviews.
The abilibility to manage up to 100 daily tournaments
Shared analysis board
Additional vacation days
Custom flair icons
Is the Chess.com Platinum Membership worth it? No, the Platinum tier is not worth it. The only thing you'll really gain from opting for a Platinum subscription is access to unlimited game reviews/analysis. My suggestion: Either stick to the Gold Membership or spend a little more on a Diamond Membership.
Pro tip: You can also use Lichess to evaluate your Chess.com games, if you don't mind copying the PGN over. That basically makes the Platinum tier on Chess.com obsolete.
You can sign up for a Platinum Membership here*
Chess.com Diamond Membership
The Chess.com Diamond Membership is the top-level subscription tier. It grants to access you everything Chess.com has to offer. Besides everything a free account, a Gold Membership and a Platinum Membership offer, you will get:
Unlimited Game Analysis + natural language coach explanations for your moves
Access to the Insights feature, which shows you interesting stats and data on all your games
Custom analysis (allows you to set up the analysis parameters how you want them)
More custom flairs
Is the Chess.com Diamond Membership worth it? It depends. If you have enough money to spare, the Diamond subscription will greatly improve your time spent on Chess.com – you will literally have unlimited access to everything! The written coach explanations for your moves are a great addition to understand the "why" behind good and bad moves. The Insights you get for your games are very interesting and you can learn quite a bit. However, the Diamond Membership is pretty expensive, especially if you compare it to Lichess, which offers a lot of the same functionality for free.
You can sign up for a Platinum Membership here*
Chess.com Prices: Free to Use, Pay To Enjoy Fully
Now that we've learned what you'll get with each Chess.com premium mebership subscription, let's look at pricing. Yes, you can use Chess.com completely for free! However, if you want to get access to all the features you will have to pay for a monthly membership subscription. Here is a cost overview for all memberships on Chess.com:
In short:
Everyone can play for free on Chess.com by simply signing up*!
A Gold Membership on Chess.com costs $6.99/month when billed monthly and $4.17/month when billed annually.
A Platinum Membership on Chess.com costs $10.99/month when billed monthly and $6.67/month when billed annually.
A Gold Membership on Chess.com costs $16.99/month when billed monthly and $10/month when billed annually.
You can review the prices of each Chess.com membership for yourself here: Chess.com Membership Levels*.
On average, a Chess.com Membership costs around $10 a month, depending on which subscription tier and billing cycle you choose.
The Negatives: What I Don't Like With Chess.com Premium
To make it clear from the beginning: Chess.com is a great service. If you're willing to pay the money for the extra functionality, I highly doubt you will be disappointed. Of course, one can criticize the limited features in the free version, but I feel like that wouldn't be fair. Chess.com is a for-profit organisation and we should judge it on the product it sells. Everything else (i. e. the free version) is a bonus. However, there is one little caveat (aka. Lichess), I have to talk about though!
Thin Lesson Content
I already mentioned this point when talking about Chess.com Lessons, but I feel like they are not very high quality overall. Sure, there are some gems in-between, but overall the product doesn't seem rounded and craves for more attention from the Chess.com team.
Ads in the Free Version
I know, the internet runs on ads. Here at Chessily, I've had my own fair share of problems financing the servers (which is why we now have affiliate links in our review posts). But for a company that charges its premium users a monthly fee, I feel like it should be possible to cover the costs and create enough net income without displaying ads.
Of course, this is also an incentive to upgrade your membership, but for me it mainly makes the free version of Chess.com feel a bit cheap and doesn't do it justice. Especially since Lichess is completely ad-free (and 100% free to use for that matter).
Lichess as a Competitior
Now let's adress the elephant in the room: Chess.com vs. Lichess! I know what you're thinking: "Doesn't Lichess offer everything Chess.com does, but for free?". I can see where this is coming from, but I personally hold a more nuanced stance. Let me explain.
Yes, if you just want to play chess and solve puzzles to improve your chess, Chess.com is probably not worth it for you (unless you really like the design more).
However, for me, Chess.com does a way better job of embracing the online chess community, be that the regular titled events or their close relationship with almost all big chess streamers. If you're involved in the online chess community, I'm sure you'll feel more at home at Chess.com
Also, I believe that the recent acquisition of the Playmagnus Group* will greatly increase the value of a Chess.com Membership compared to Lichess going forward. But more on that in the conclusion.
Time to Judge: Is a Chess.com Premium Membership Worth It?
A quick note on the Chessily Review Score: For Chess.com Premium Memberships, I created an average of the Gold, Platinum and Diamond Membership. In reality, the Gold Membership should have a slighter higher Chessily Review Score, while the Platinum Subscription ranks a bit lower (see the part on each membership tier above).
Overall, I feel very comfortable recommending a Chess.com Premium Membership subscription. The value you get for your money (especially if you're a regular online player) is impressive and barely comparable to any other chess site.
However, be sure to evaluate your needs carefully:
Especially with the acquisition of the PlayMagnus Group, I believe a Chess.com Premium Membership is absolutely worth it! I'm sure we'll see a better integration of Chess.com accounts with PlayMagnus services like Aimchess or Chessable, as well as better coordinated and more tournaments at the top level. I am exited for that!
Let me know what you think about Chess.com and its various Membership plans by contacting me.
Chess.com Socials
Chess.com FAQ
Is Chess.com Premium Worth It?
Overall, Chess.com Premium offers very good benefits for players. To get the most bang for your buck, stick with the Gold or Diamond Membership and avoid the Platinum Membership.
How Much Is Chess.com Premium?
A Gold Membership on Chess.com costs $6.99/month when billed monthly and $4.17/month when billed annually. A Platinum Membership on Chess.com costs $10.99/month when billed monthly and $6.67/month when billed annually. A Gold Membership on Chess.com costs $16.99/month when billed monthly and $10/month when billed annually.
Check Out Our Other Reviews