Best Budget Chess Sets in September 2023
Chess, a game of strategy and intellect, has captivated enthusiasts for centuries, beckoning players of all ages and backgrounds to its intricate battlefields. As the demand for quality chess boards and sets grows, many are on the hunt for the best budget options that don't compromise on aesthetics or durability. Our curated list aims to guide both novice and seasoned players alike through a selection of the finest affordable chess sets available in the market today.
By optimizing our research for price, craftsmanship, and user reviews, we've narrowed down choices that offer unmatched value for every penny spent. Whether you're seeking a portable travel set, a classic wooden board, or an ornate collector's piece on a shoestring budget, this article promises a treasure trove of options tailored to fit diverse preferences and pockets. Dive in to discover the perfect blend of affordability and quality, ensuring your next game is played on a board that's both a visual delight and a testament to enduring craftsmanship.
Short on Time?
Here are our recommendations for the best cheap/budget chess sets and boards in 2023:
While we can't buy and extensively test each cheap chess board or set in this list, we did our best to combine personal experience, online user reviews and product properties to into a coherent list of the best budget-friendly sets on the market.
Still Haven't Found The Best Budget Chess Board For You?
We want to go above and beyond to help you choose a high-quality chess set that fits your budget.
Simply email us at: [email protected] and we will help you find the perfect set for you!
Please include the following information:
What are you going to use the affordable chess set for mainly?
What are your material preferences?
What price range are you looking for?
Anything else you feel is important.
We will get back to you with a couple of options within 24 hours – often less!
Best Overall Chess Set on a A Budget
Navigating the myriad of affordable chess sets can often be a daunting task, given the vast options available. When seeking the best overall budget chess set, it's essential for buyers to strike a balance between quality and affordability. A top contender in this category should boast sturdy craftsmanship, ensuring that the pieces and board withstand countless games. The design should be both functional and aesthetically pleasing, catering to both beginners and seasoned players.
The weight and feel of the pieces, the clarity of the board's squares, and the durability of the materials used are all crucial components that elevate a set from good to outstanding. In addition, the set should come with a storage solution, be it a foldable board with compartments or a separate pouch, ensuring longevity and ease of transport. With these criteria in mind, we've found a set that stands out, offering an unparalleled blend of value and excellence in its class.
The Club Series Chess Set, Box, & Board Combination
» A beautifully hand-crafted, versatile chess set for anyone on a budget
Check Current Price*
The House of Staunton's Club Series Chess Set* is the real deal. With hand-carved pieces crafted from the finest woods and a full tournament size with a 3.75″ king and 1.5″ base, you'll be playing like a pro in no time. The pieces are heavily weighted and have luxurious billiard cloth base pads for a beautiful finish. The design, quality, and craftsmanship of this set is unbeatable for the price. And with 34 pieces including four queens, you'll have everything you need for a full game.
The accompanying Wooden Tournament Mahogany/Maple Chessboard with 2.0″ squares features alternating mahogany and maple squares with a mahogany frame, a 0.5″ thickness, and a satin finish. And to keep your pieces protected, the Slide Top Box is lined in green velour and divided to keep your set organized.
Invest in a chess set that's built to last and looks great doing it. The Club Series Chess Set from The House of Staunton is the perfect combination of style and functionality.
Quick Facts:
Board size: 18.875″ inch / 48 cm
Square size: 2.0" inch / 5.1 cm
King height: 3.75" inch / 9.53 cm
Materials: different options
What We Like
Tournament-sized
Hand-carved pieces
Durable and made to last
What We Don't Like
The rigid storage box can be a bit annoying
Best Cheap Chess Set Made From Wood
Wooden chess sets have long been revered for their timeless elegance and tactile appeal. In the realm of budget options, finding a wooden set that encapsulates both affordability and quality can be a challenging endeavor. When scouting for the best budget wooden chess set, buyers should pay close attention to the type of wood utilized, as it greatly influences the set's durability and appearance. The craftsmanship, including the intricacies of the carvings and the smoothness of the finish, play a pivotal role in determining its value. A desirable set should also possess a balanced weight to the pieces, offering a satisfying feel during play. The board itself should lay flat, with well-defined squares that enhance the visual experience. Given these parameters, we've unearthed a wooden chess set that beautifully marries cost-effectiveness with the rich tradition and beauty inherent to wooden sets.
Design Your Own House of Staunton Deluxe Tournament Combo
» A foldable tournament chess set with many customization options
Check Current Price
Are you tired of searching for the perfect budget chess set? Look no further than the Design Your Own Complete Chess Combo. With this option, you have the freedom to create a customized set that meets your specific needs and preferences.
The process is simple – just choose from a variety of plastic chess pieces, veneered chess boards, and bags to create a unique set that fits your style. Whether you prefer a traditional Staunton design or something more modern, there are plenty of options to choose from.
And the best part? All of the most popular items are available, ensuring that you get a high-quality set that is both functional and beautiful. Whether you're a beginner or an experienced player, having a customized chess set can make your games even more enjoyable.
Not only does the Design Your Own Complete Chess Combo allow you to create a set that suits your style, but it also makes for a great gift. If you know someone who loves chess, a personalized set can be a thoughtful and memorable present that they'll cherish for years to come.
Overall, the Design Your Own Complete Chess Combo is an excellent option for anyone who wants a customized and high-quality chess set on a budget. It's easy to use, versatile, and a great way to add a personal touch to your games.
What We Like
Highly customizable
High-quality wooden board
Foldable and easy to transport
What We Don't Like
The many choices can be quite overwhelming
Best Budget Electronic Chess Set
In the world of chess, electronic sets have surged in popularity due to their interactive capabilities and the convenience they offer. For those on a budget, finding the perfect blend of affordability and quality is paramount. When selecting a budget electronic chess set, buyers should prioritize a responsive touch interface and clear display. Additionally, it's essential to consider the set's battery life, ease of portability, and the availability of features such as game save options, tutorials, and adjustable difficulty levels. A good set should also have a robust build to withstand regular use.
While many options might seem enticing, only a select few truly stand out in terms of value for money. In this category, we've done the groundwork to identify a winner that encapsulates all these qualities without breaking the bank. Now, let's delve into the champion of budget electronic chess sets.
Square Off Pro Chess Computer
» A rollable, yet very capable electronic chess set, perfect for beginners.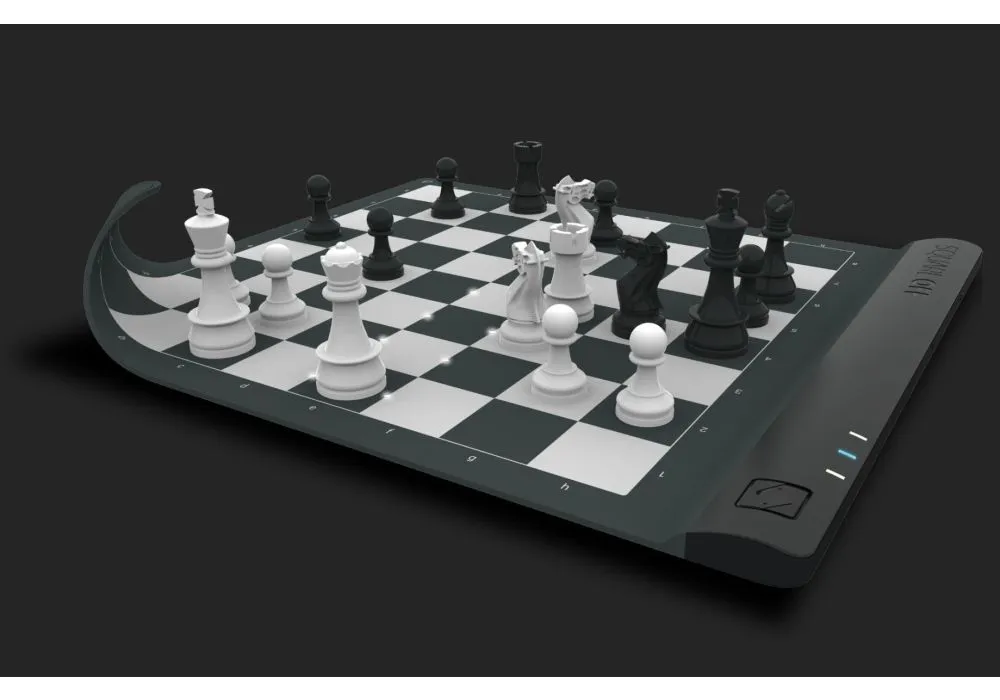 Check Current Price*
Are you ready to take your chess game to the next level? Look no further than Square Off's latest creation – the Square Off Pro. As an avid chess player, I was thrilled to discover this world-first rollable e-chessboard. Not only is it AI-enabled and globally connected, but its portability means you can take it with you wherever you go.
The interactive embedded lights add an extra dimension to the game, making it even more immersive. Plus, the one-tap smartphone connectivity makes it easy to play with anyone around the world (for example on Lichess or Chess.com or test your skills against the adaptive AI.
The Square Off Pro comes with a range of exciting app features that integrate seamlessly with the board, making the world of chess even more thrilling. Whether you're a beginner or a professional, this tournament-sized board is perfect for chess students and enthusiasts alike.
Inside the box, you'll find everything you need to get started, including an e-chessboard with magnetic sensors, 34 weighted chess pieces, an in-built rechargeable battery, and a USB-C charging cable. With Square Off Pro, you can enjoy an extraordinary chess-playing experience that's truly one-of-a-kind.
What We Like
Minimalistic Design
Play on Chess.com, Lichess etc.
Rollable for on-the-go play
What We Don't Like
Quite small in size
Not as stable due to rollability
Best Budget Tournament Chess Set
If you are looking for a tournament chess set that won't break the bank, you may want to consider a budget-friendly option that still meets the standards and requirements for competitive play. Budget tournament chess sets are usually made of plastic or vinyl, which are durable, lightweight, and easy to clean. Plastic pieces are often weighted with metal or sand to give them a nice feel and balance. Vinyl boards are flexible and roll up for convenient storage and transport. They also come in various colors and designs to suit your preference.
A good budget tournament chess set should have the following features:
A board with 2 ¼ inch squares and a clear contrast between light and dark squares
A set of pieces with a king height between 3 ¾ and 4 ¼ inches and a Staunton-style design
With these features in mind, we have selected the best budget tournament chess set that offers great value for money and quality for performance. The best cheap tournament set in September 2023 is…
Regulation Tournament Chess Pieces and Chess Board Combo
» A cheap, yet durable vinyl tournament chess set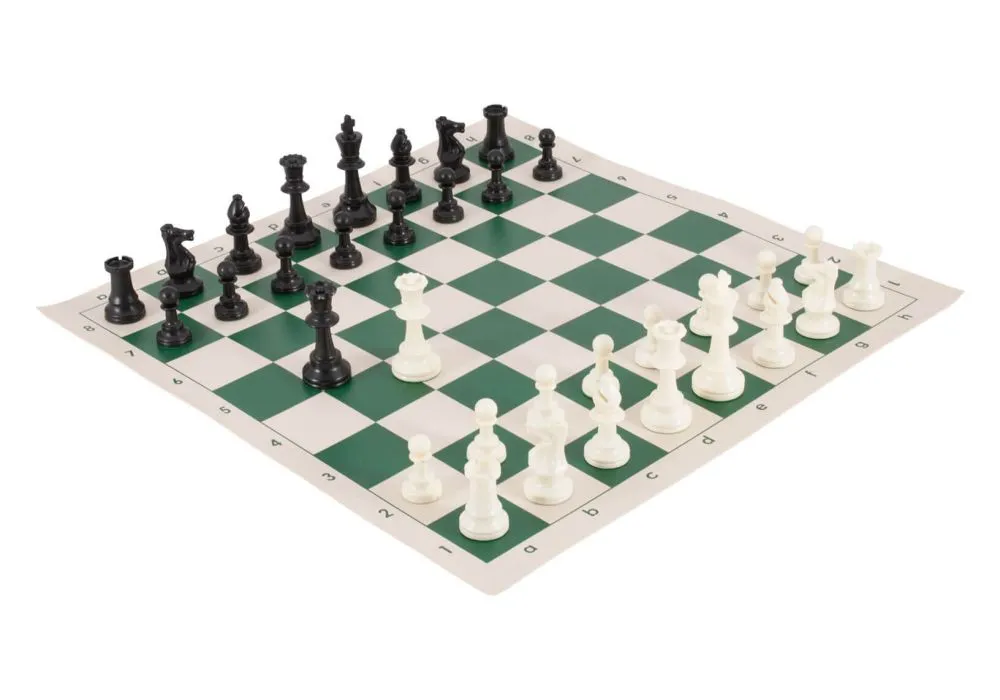 Check Current Price*
Looking for an affordable and high-quality chess set that meets all US Chess Federation Tournament requirements? Look no further than these Single Weighted Regulation Plastic Chessmen. With their Staunton Pattern design and durable plastic construction, these chessmen are ideal for serious chess play and will last for years to come. In fact, they're the exact same chess pieces used by the US Chess Federation in all of its national tournaments! Each set comes with 34 pieces, including 2 additional queens for pawn promotion. The look and feel of the chessmen has been specifically designed to minimize the possibility of damage during play and transport, and their high-grade plastic construction makes them virtually unbreakable. At 3.75″ in height with a 1.5″ base diameter, they're just the right size for comfortable play.
For the perfect complement to these chessmen, get the Regulation Vinyl Tournament Chessboard. Measuring 20″ x 20″ and featuring 2.25″ squares with algebraic notation on all sides, this vinyl chessboard is durable and resistant to tears, spills, and other abuse. Its squared corners make it easy to align and unroll for play, while its portability makes it great for use with either the Standard Chess Bag or Deluxe Chess Bag. So whether you're a serious player, a chess club, or a school looking for a high-quality chess set that won't break the bank, this set is an excellent choice.
What We Like
Budget friendly tournament set
Virtually unbreakable
How Much Should a Chess Set Cost?
The cost of a chess set can vary significantly based on several factors, including material, craftsmanship, and rarity. At the most basic level, plastic and cardboard sets can be purchased for as little as $10 or even less. Mid-range sets, often made of wood or metal, can range from $50 to $500, depending on the intricacy of the design and the quality of the materials. At the high end, luxury chess sets, which may be handcrafted, made of premium materials like marble or ebony, or be limited-edition collector's items, can cost anywhere from $1,000 to tens of thousands of dollars. Additionally, antique or historically significant sets can fetch prices in the hundreds of thousands or even more.
Therefore, the right price for a chess set largely depends on individual preferences and the intended use of the set.