Best Luxury Chess Sets in September 2023
For connoisseurs of chess, playing on a luxury chess board or set is akin to experiencing a fine vintage wine—every element matters. The tactile sensation of each meticulously crafted piece, the visual opulence of a well-designed board, and the sheer joy of playing a strategic game in such a refined setting elevates the entire experience. Unlike digital or mass-produced boards, luxury chess sets captivate both the mind and the senses.
In the world of luxury chess sets, the focus goes beyond mere functionality. These are carefully designed and crafted masterpieces made from the highest quality materials, be it rare woods, precious metals, or even ivory. The sensation of sliding an exquisitely carved bishop across a board of polished marble or exotic hardwoods is a tactile and visual pleasure that is second to none.
Given the plethora of luxurious options available, finding the perfect chess set can become a task as complex as a well-played endgame. This article is your guiding light, illuminating the nuances that distinguish the crème de la crème of chess sets. We'll discuss what you should look for in a high-end board, delve into the artistry and craftsmanship that make these sets truly unique, and showcase some of the most extraordinary sets on the market as of September 2023. Shall we embark on this journey of elegance? Read on.
Short on Time?
Here are our recommendations for the best luxury chess sets and boards in 2023:
While we can't buy and extensively test each luxury & high-quality chess board or set in this list, we did our best to combine personal experience, online user reviews and product properties to into a coherent list of the most luxurious sets at the moment.
Still Haven't Found The Best Luxury Chess Board For You?
We want to go above and beyond to help you choose a high-quality chess set that fits your needs.
Simply email us at: [email protected] and we will help you find the perfect set for you!
Please include the following information:
What are you going to use the luxury chess set for mainly?
What are your material preferences?
What price range are you looking for?
Anything else you feel is important.
We will get back to you with a couple of options within 24 hours – often less!
Best Overall Luxury Chess Set
In the world of luxury chess sets, finding the Best Luxury Chess Set Overall is a discerning quest that goes beyond mere aesthetics. It's a balancing act of form and function, where the set's materials, craftsmanship, and gameplay enhancements are equally weighted. As a buyer on this elevated hunt, focus not just on the visual allure but also on the tangible quality of the materials—whether that's exotic hardwoods, fine metals, or rare gemstones. Equally crucial is the craftsmanship: every individual piece should feel well-weighted in your hand and exhibit meticulous detailing. The board itself should be more than just a playing surface; it should be an artistic but practical centerpiece. A set worthy of the 'Best Overall' title would be a harmonious blend of all these elements, serving not just as a showcase piece but also as a catalyst for an enriched gaming experience. Now, let's turn our attention to the set that brilliantly checks all these boxes and stands out as the definitive choice.
The Club Series Chess Set, Box, & Board Combination
» Luxurious, Limited-Edition Chess Experience with Unmatched Craftsmanship.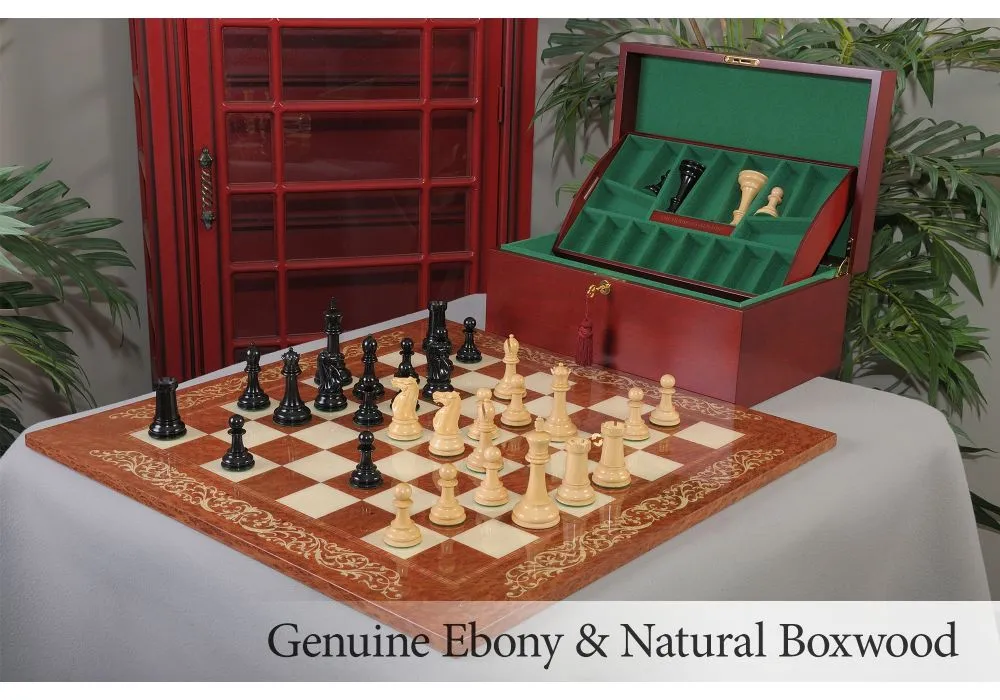 Check Current Price*
When it comes to the epitome of chess sets, the Broadbent Series Luxury Chess Set from House of Staunton is in a league of its own. It's like owning a piece of history with these chessmen—faithfully recreated from the classic 1935 Jaques of London Broadbent Staunton Pattern. Each king stands at a majestic 4.4 inches and sits on a robust 1.9-inch base, adding gravitas to every move. With painstaking attention to detail, these pieces are a spitting image of the original design.
Crafted by skilled artisans, these chess pieces boast the highest grade of wood and are generously weighted. Each one is adorned with luxurious billiard cloth base pads and finished with finesse. The presence these pieces bring to the board is as grand as the original iconic 20th-century design.
What sets the Broadbent Series apart is its balance between beauty and utility. This set is built to endure rigorous gameplay while embodying a level of elegance that is the hallmark of House of Staunton. In terms of quality and craftsmanship, this set doesn't just set the bar; it is the bar. You'd be hard-pressed to find another set with this level of craftsmanship at this price point.
Adding an extra touch of exclusivity, each set includes 34 chessmen, complete with four queens. The set comes with an individually numbered Certificate of Authenticity and a manufacturer's plaque that can be affixed to a chess box.
What We Like
Unparalleled Craftsmanship: Each piece is a work of art.
Authentic Design: Recaptures the elegance of the historic 1935 Jaques of London set.
Extra Queens: Four queens included, an appreciated standard.
What We Don't Like
Exclusivity: Extremely limited availability may make it hard to purchase.
Price Point: While exceptional, the set is a significant investment.
Heavy Weight: May not be ideal for quick, casual games.
Best Wooden Luxury Chess Set
When it comes to the epitome of elegance and sophistication in chess sets, wooden luxury chess sets stand as timeless classics. Craftsmanship takes center stage here—pay close attention to the intricacies of the design, the quality of the wood, and the expertise involved in carving each piece. Woods like rosewood, ebony, and mahogany are popular choices, prized for their rich colors and durability. Additionally, a well-crafted set often comes with artisanal touches like hand-inlaid boards and felted piece bottoms for smooth gameplay.
High-quality wooden sets often boast a harmonious blend of aesthetic appeal and functionality. Look for sets that not only captivate the eye but also offer a pleasurable tactile experience with weighted pieces that sit comfortably in the hand. As you search for the pinnacle of wooden chess sets, these are the key elements that distinguish the extraordinary from the merely great.
As we venture into this luxurious world, there's one set that brilliantly encapsulates all these qualities.
The Leningrad Series Chess Set, Box, & Board Combination
» Exceptional craftsmanship meets functional elegance in a premium package.
Check Current Price*
Embodying sophistication and skillful craftsmanship, the Leningrad Series Chess set by the House of Staunton stands as a striking example of luxury in the chess world. Each piece is a work of art, hand-carved by master artisans from premium woods, with the King proudly standing at 4.0″ with a robust 1.6″ diameter base. These chessmen don't just sit pretty; they're heavily weighted for stability and feature plush billiard cloth base pads that make each move feel luxurious. This set is all about melding form and function, designed to endure the hustle and bustle of intense gameplay while keeping up appearances. It's hard to find a comparable set in terms of quality and craftsmanship at this price point. Plus, it ups the ante by including four Queens in each 34-piece set, an industry standard that was actually introduced by the House of Staunton itself in 1993.
Now, let's talk about the board. Made in Spain, it features an intricate design with Coral Ash Root and Bird's Eye Maple squares framed elegantly in more Coral Ash Root. With a thickness of 0.5″ and a refined satin finish, this board complements the chessmen perfectly. It even comes with a molded edge for that extra flair.
To complete the ensemble, the Premium Chess Box steals the show. Lined in sumptuous green billiard cloth and partitioned for each piece, it's a haven for your luxurious set. The box is secured with sturdy brass quadrant hinges and even has a lock and key for extra security.
What We Like
Inclusion of four Queens, catering to more advanced gameplay scenarios.
Premium wood choices add a level of elegance that's hard to match.
Craftsmanship in both chessmen and board is simply unparalleled.
What We Don't Like
Some might find the board's molded edge a bit extravagant.
Price point may not be accessible for all.
The weight of the chessmen might be a bit too heavy for younger players.
Best Cheap Luxury Chess Set
When you think about luxury chess sets, the words "budget-friendly" might not immediately come to mind. Yet, the "best cheap luxury chess set" is a category that beautifully bridges the gap between elegance and affordability. As a discerning buyer, you'll want to focus on the set's craftsmanship, even at a lower price point. Examine the quality of the materials, the intricacy of the design, and the overall usability.
It's not just about how it looks, but also how it feels in your hands as you move the pieces. Pay attention to the board's finish, the weight of the chessmen, and any additional features that enhance the gameplay experience. You'll be surprised to discover that you can indeed have luxury without breaking the bank. And when it comes to finding that perfect intersection of lavish design and budget-conscious shopping, we've got just the set to crown as the winner in this unique category.
The Gilded Zagreb '59 Series Chess Set, Box, & Board Combination
» High-quality, historically inspired chess set offering robust playability and enduring beauty.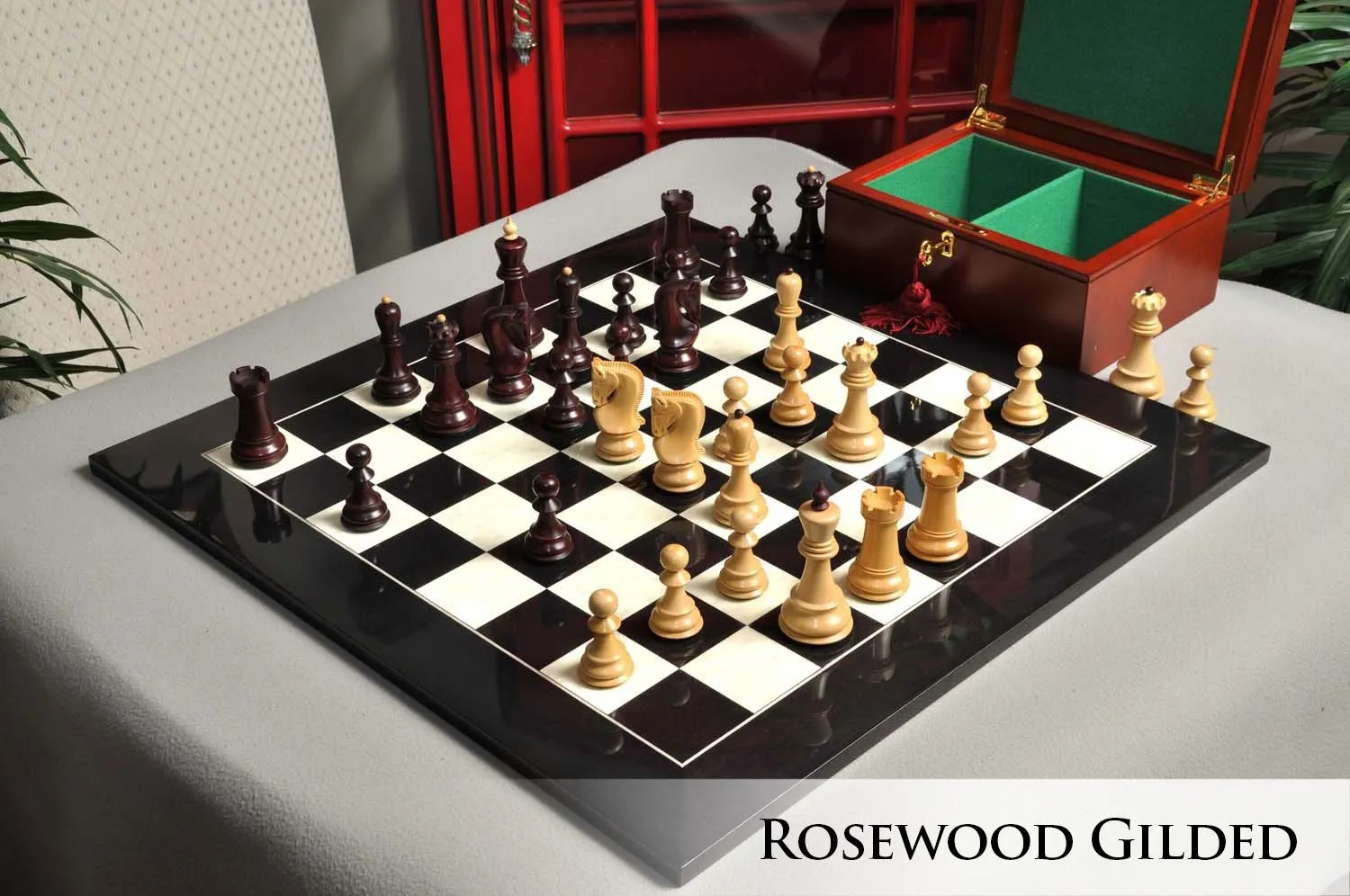 Check Current Price*
Embodying timeless elegance and historic significance, the Zagreb '59 Series Chess Set by House of Staunton offers a full tournament experience without compromising on quality or durability. Its 3.875″ King sits on a stable 1.75″ diameter base, supported by pieces hand-carved from premium woods. Aesthetically, the set pays homage to iconic international chess tournaments of the '50s and '60s, particularly the 1959 World Championship Candidates Match in Zagreb. The modern adaptations—like the easily interchangeable Formee cross finials for the King—strike a fine balance between tradition and today's tournament standards. Designed to weather countless games, this set abandons fragile ornamentals in favor of reinforced Pawn collars and simplified Queen crenellations. The set's functionality doesn't sacrifice beauty; it has that inherent House of Staunton grace that makes it stand head and shoulders above its price bracket.
Coming with 34 pieces, including four Queens, this set stays ahead of the curve, embracing a standard House of Staunton introduced a decade ago. Moving on to the chessboard, the Spain-crafted platform wows with its glossy finish, featuring Blackwood and Bird's Eye Maple squares, contained within a Blackwood frame. It's a 0.5″ veneered work of art that perfectly complements the chessmen. Lastly, the Premium Chess Box ties the whole package together. Lined with green billiard cloth and fortified by brass quadrant hinges, it even offers the option of a lock & key, with or without the House of Staunton logo etched into the lid.
What We Like
Interchangeable King finials for a customizable look
Reinforced Pawn collars for enhanced durability
Premium Chess Box with lock & key option
What We Don't Like
Chessboard could be too glossy for some tastes
Lacks intricate detailing for those who prefer ornate designs
Four Queens may be overkill for casual players
Best Big Luxury Chess Set
When it comes to choosing the best big luxury chess set, size and grandeur are in a league of their own. These sets are not just a game; they're a statement piece, an art installation that elevates any room they're in. As a buyer, you're not just looking for quality craftsmanship, but also intricate detailing and materials that stand the test of time. Woods like mahogany, rosewood, or even custom materials like marble and onyx are commonly used to convey both durability and aesthetics. The board and pieces should be well-balanced, offering both tactile and visual pleasure. It's not just about being big; it's about filling a room with presence. In a big luxury set, the standard Staunton design often takes a backseat for something more artistic and exceptional. Functionality should marry form in such a way that neither compromises the other.
Now, having understood what constitutes the crème de la crème in big luxury chess sets, let's dive into the showstopper that has garnered accolades for its unparalleled qualities.
The Golden Collector Series Luxury Wood Chess Set, Box, & Board Combination
» A pinnacle of luxury and craftsmanship, designed for the ultimate chess aficionado.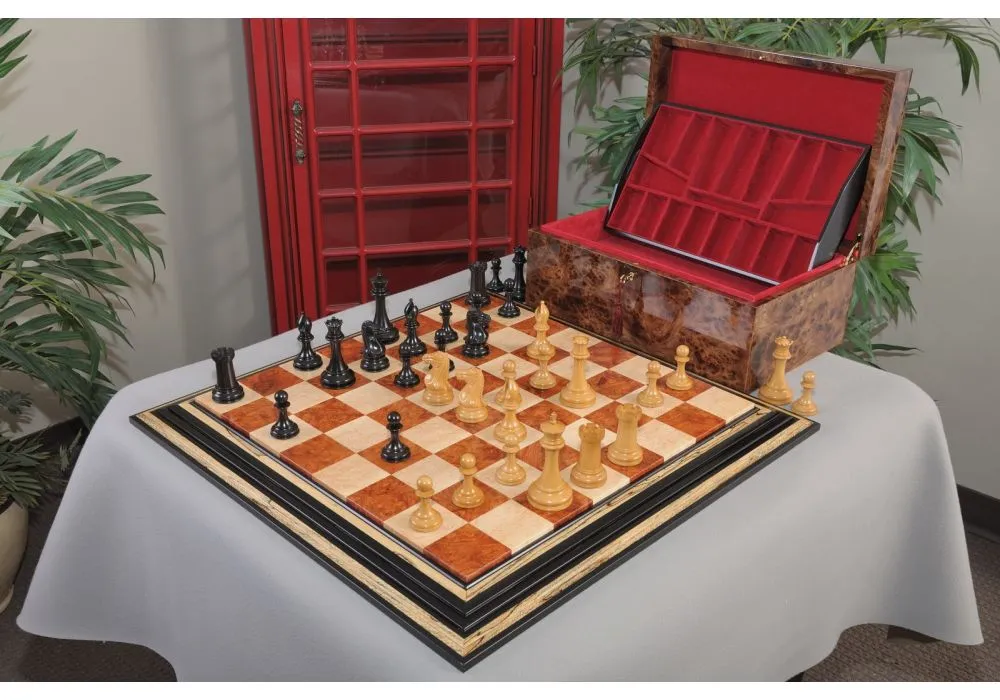 Check Current Price*
For those chess aficionados who settle for nothing but the pinnacle of luxury, this Golden Collector Series Luxury Chess set is a masterpiece you'll be thrilled to own. A towering 4.4″ king sits elegantly on a 2.0″ diameter base, each piece meticulously carved from top-tier Antiqued Boxwood and Genuine Ebony. Expert artisans have poured their skill into each piece, creating a level of detail and craftsmanship that outshines any competitor in every price bracket—literally, nothing else comes close.
Moving onto the board, its handmade nature emanates sophistication. Crafted in the U.S., this board captivates with Red Amboyna Burl and Bird's Eye Maple squares, each bordered with entrancing Spalted Maple inlays and framed in Genuine Ebony—a feast for the eyes and a joy to play on.
The cherry on top is the Italian-crafted Signature Fitted Coffer, which keeps your chess pieces safely nestled in individual compartments. Forget the conventional stacking method; here, each piece enjoys its private sanctuary. The box is not just a storage unit but a luxury accessory, replete with brass quadrant hinges, two removable trays, a lock and key, and a dash of red velour for that velvety touch on the interior. Size-wise, it accommodates kings up to 4.4″ in height and measures a sturdy 16.5″ x 11″ x 7.25″.
What We Like
The unparalleled craftsmanship of both chess pieces and board
Individual compartments in the chess box for each piece
High-quality materials from board to coffer
What We Don't Like
Perhaps a bit over-the-top for casual players
The luxury comes at a premium price
Requires a decent amount of storage space
What To Look For In A Luxury Chess Set
Beneath the allure of the 64 squares and the intricate chess pieces lies the fascinating world of luxury chess boards and sets. For connoisseurs and enthusiasts alike, selecting the perfect luxury set is akin to choosing a piece of art—a harmonious blend of aesthetics, craftsmanship, and personal taste. As chess transcends the realms of a mere game to become a symbol of prestige, understanding the nuances of luxury chess sets becomes crucial. Whether you're a seasoned collector or someone making their first foray into the premium segment of the chess world, this guide is crafted to help you discern quality, design, and value, ensuring that your chosen set stands as both a testament to your love for the game and an epitome of luxury.
Understanding the Materials in Luxury Chess Sets
When you're on the hunt for a luxury chess set, one of the first things you'll notice is the quality of materials used. While basic sets often use plastic or inexpensive woods, luxury chess sets elevate the game with premium woods like mahogany, rosewood, and walnut. Some even go beyond to incorporate exotic materials like marble, onyx, or even precious metals. When selecting a material, consider both its durability and its aesthetic appeal.
Another aspect is the detailing on the pieces themselves. High-quality materials allow for more intricate designs and carvings, making each piece not just a game component, but a work of art. It's not just about the king and queen; every pawn, bishop, and rook should demonstrate the set's overall quality.
Design and Craftsmanship: The Difference Makers
If you're going to invest in a luxury chess set, design and craftsmanship should be top-notch. While the Staunton design is the standard and most widely recognized, luxury sets often offer unique, artistic takes that set them apart. From the curvature of the pieces to the detailing on the board, every element should showcase exceptional craftsmanship. Some sets are even designed by renowned artists and come with certificates of authenticity.
When considering craftsmanship, look into how the set is made. Is it mass-produced, or has it been handcrafted by skilled artisans? Handcrafted sets often come with a story, a legacy, and a unique touch that mass-produced sets simply can't match.
Practical Considerations: Size, Storage, and Portability
Although it might be tempting to focus solely on aesthetics, practical considerations are equally important when choosing a luxury chess set. For instance, consider the dimensions of the board and the height of the pieces. If it's too large, you might struggle to find a place for it in your home. On the other hand, if it's too small, it might not give you the grand experience you're looking for.
Storage is another essential factor. Many luxury sets come with specially designed boxes or coffers that not only store the pieces securely but also add to the set's overall allure. Look for boxes that offer individual compartments for each piece to minimize wear and tear.
Lastly, if you intend to take your set on the go, look for options that combine luxury with portability. Although most luxury sets are meant to be stationary showpieces, some offer carrying cases built with the same attention to detail as the set itself.